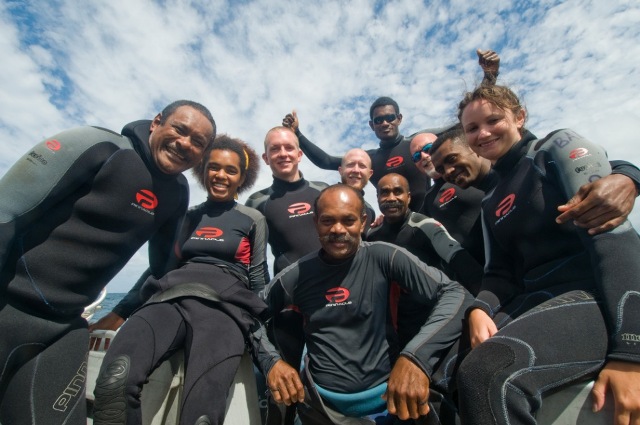 Beqa Adventure Divers, or BAD are the original initiators of Mangroves for Fiji.
Their carbon footprint is 117 tons per annum, largely stemming from the engines powering their vessels and their vehicle, and from the large amounts of electricity required to run their compressor and various air conditioning units.
In order to offset their carbon emissions, BAD are sponsoring the replanting 33 hectares of Mangal, or 330,000 Mangrove trees.
This corresponds to the lowest estimated sequestration rate of Mangroves and also takes into consideration that newly established Mangals sequester substantially less carbon than mature habitats.
Once all Mangroves have been planted, they will have successfully offset their own yearly emissions and become a carbon neutral business.
But they will not stop there: BAD will additionally offset the emissions generated by their customers when travelling to Fiji, thus making this an ongoing undertaking.
BAD will finance all of this out of cash flow, by reserving part of their earnings for this purpose.
BAD are offering to pay FJD 1,000.00 per hectare (100 per 100 meters), of which ½ will be paid once the Mangroves are in the ground and the other 1/2, upon inspection of the site after 6 months.
Planting Tally
Serua Island – 6.1 hectares
Vunaniu Village – 2.5 hectares
Namatakula Village – 2.4 hectares
Galoa Village 1 – 1 hectare
Galoa Village 2 – 2 hectares
Galoa Village 3 – 2 hectares
Culanuku Village – 6 hectares
Waicoka Village – 1 hectare
Naibulu Village 1 – 2 hectares
Naibulu Village 2 – 6 hectares
Vatutavui Village – 1 hectare
Lomati Village – 6 hectares
Nakorovou Village – 1 hectare
Total – 39 hectares